After 15 Royal Caribbean cruises, I finally sailed on another cruise line—one of the most controversial in the cruise industry.
Earlier this month, I booked a 7-night Mediterranean cruise on the MSC World Europa, the cruise line's newest and biggest ship that has many "copycat" features from Royal Caribbean's Oasis Class ships.
MSC Cruises, an Italian cruise line, has recently gained popularity in North America, but has been subject to many complaints about the food, service, and programming from North American cruisers. This makes the cruise line a "controversial" choice for a vacation despite its low prices.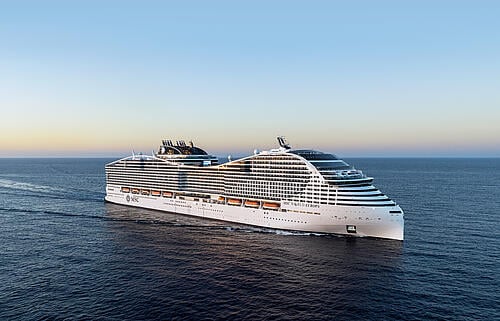 The MSC World Europa is currently the biggest cruise ship in the world after Royal Caribbean's five Oasis Class ships. While she currently sails exclusively in Europe, her sister ship, the MSC World America, will launch in 2025 from Miami, which could increase competition for Royal Caribbean.
I went onboard to see what MSC has to offer and how it compares to Royal Caribbean. Here's what I liked, disliked, and what surprised me about my sailing.
I liked the lower prices on cocktails and specialty restaurants, although I find the quality of specialty restaurants better on Royal Caribbean.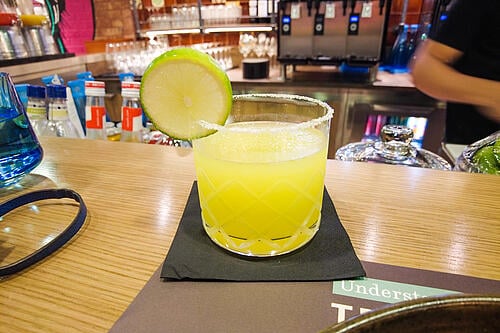 It's no secret that drinks on a Royal Caribbean cruise are expensive. Most cocktails are priced around $14 which, after gratuity, is over $15.
On MSC, however, I was pleased to find drinks priced much more affordably—most basic cocktails were around $10 with more "specialty" drinks around $12. Lower drink prices meant I could stretch my budget further and try a wider variety of drinks around the ship, which enhanced my overall experience.
That being said, even though drink prices are cheaper on MSC, it's hard to beat the benefits I receive as a Diamond member in Royal Caribbean's Crown & Anchor Society loyalty program. I receive four free drinks every day of my cruise, so I almost never spend any extra money on drinks while sailing on Royal Caribbean.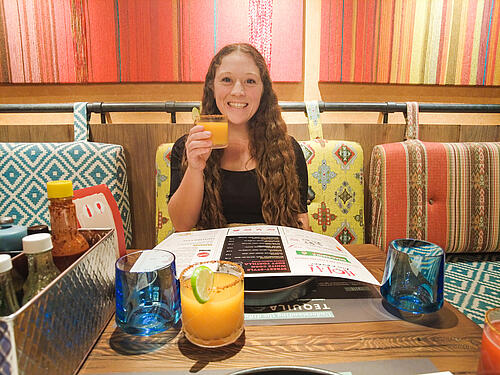 Related: Crown & Anchor Society loyalty program info, tips & secrets
Specialty restaurants were priced lower on my MSC cruise as well.
I paid $30 to dine at the ship's teppanyaki restaurant, but while I enjoyed my meal, I would say it's a few notches down in quality when compared to Izumi Teppanyaki on Royal Caribbean. It was still tasty, but I found myself missing the signature flavor and courses at Royal Caribbean's teppanyaki restaurant.
That being said, I'm not always willing to shell out $60 for teppanyaki on Royal Caribbean. Spending $30 is a lot more reasonable, and even if it's not as good, I wouldn't hesitate to eat there again.
I also paid roughly $20 USD for all-you-can-eat Mexican food at the ship's Mexican restaurant, HOLA! Tacos & Cantina. While a great deal on a specialty restaurant, I found the quality somewhat similar (albeit a bit better) to El Loco Fresh on Royal Caribbean, which is a complimentary venue.
Nonetheless, I preferred the lower prices on specialty dining as it didn't feel like as much of a splurge compared to the complimentary venues onboard.
My cabin on MSC was modern and spacious, much like on Royal Caribbean's new ships, but there was far less storage space.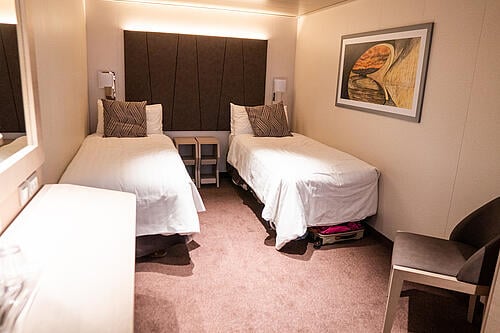 As a virtually brand new ship, my interior cabin on the MSC World Europa was spacious and modern, and quickly became my home away from home while onboard.
The room had a large TV, plenty of outlets (including by the bed), and was impeccably clean.
The only complaint I had about my cabin was that there wasn't nearly as much storage space as I would expect on a brand new ship. Basically the only storage was in the wardrobe, which had a few shelves and drawers.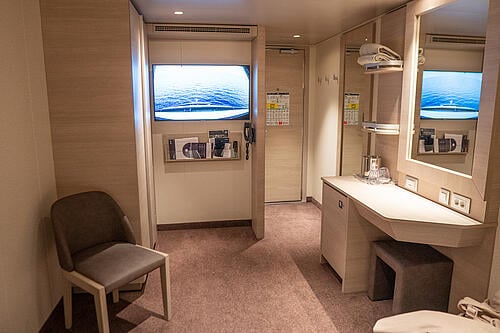 While there were a few other shelves here and there, the overall storage was lacking compared to cabins on new Royal Caribbean ships like Odyssey of the Seas and Wonder of the Seas. Although it wasn't a dealbreaker, I would have appreciated more storage space to better fit my belongings.
I disliked the lack of free water onboard, and it was the biggest pet peeve during my sailing.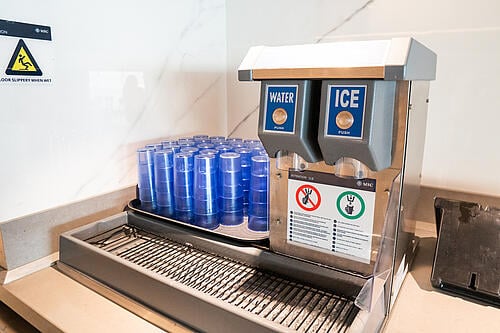 What I disliked the most on my MSC cruise—by far—was the lack of free water onboard if you don't have a drink package.
There is a stark cultural difference in providing free water in North America versus southern Europe, and this shows on MSC ships. In North America, it's expected to receive free tap water virtually anywhere, from restaurants to cafes and bars. In many parts of Europe, though, you're expected to pay for bottles of water at these locations.
I was shocked at how difficult it was to find free water on the MSC World Europa. Virtually the only place with free water were the few water machines in the buffet. In my experience, most bars, lounges, and restaurants would not give any free water, meaning you would have to either pay for a bottle or bring water from the buffet elsewhere on the ship.
Not only did this seem like a complete waste of plastic (the amount of water bottles used onboard was staggering), but it was cumbersome and annoying. On my next Royal Caribbean cruise, I won't take for granted the ability to get a free glass of ice water anywhere onboard!
I was impressed by the amount of activities on the MSC World Europa, although there isn't as much programming scheduled throughout the day.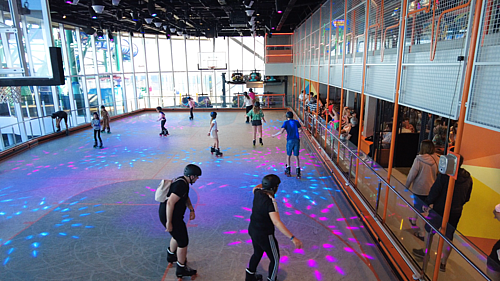 Royal Caribbean ships are known for being family-friendly and offering endless activity options, from rock climbing to trivia, bumper cars, and game shows.
MSC also offers a wide selection of activities for both kids and adults. I was surprised to see bumper cars and rollerskating available on the MSC World Europa, both of which were located in the Sportsplex, a copycat of Royal Caribbean's SeaPlex. Additionally, the ship had waterslides and a kids splash pool similar to Royal Caribbean's Splashaway Bay.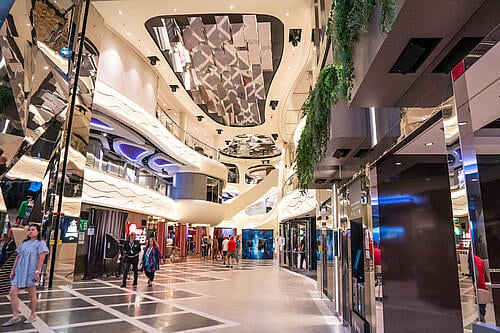 Adults could enjoy live music, karaoke, and production shows, but it seemed like there were fewer activities to choose from on MSC. Royal Caribbean's daily list of activities is extensive, with activities happening in virtually every corner of the ship all day long.
I didn't find the fewer amount of activities an issue because truthfully, there was still more than enough to do. I enjoyed spending the evening at a theater show—which were all quite impressive—in addition to watching live music in the pub, attending a crew talent show, and hanging out at the karaoke bar.
I visited the invite-only speakeasy on the MSC World Europa, and it was much cooler than any bar I've experienced on Royal Caribbean.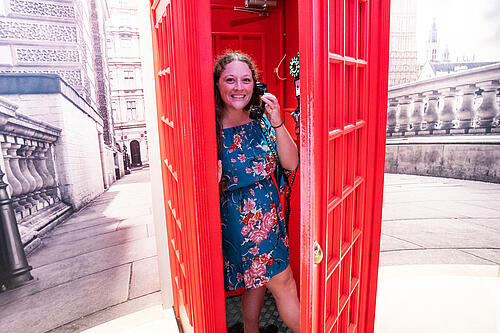 Even the newest bars on Royal Caribbean can't compete with the MSC World Europa's invite-only Speakeasy Bar, and it was the most fun experience I had on my entire cruise.
Located on the World Galleria of the MSC World Europa is a telephone booth that looks unassuming at first glance, but is actually the entrance to a secret, invite-only bar.
On the third day of our sailing, my friend and I unexpectedly received an invitation to the bar from a bartender, and we scanned the ticket's QR code to make reservations for the speakeasy. The next evening, we met at the telephone booth at our designated reservation time.
The door inside the telephone booth opened and we followed the host down a series of crew-only hallways and staircases to the speakeasy, which was decorated with 1920s decor and furnishings.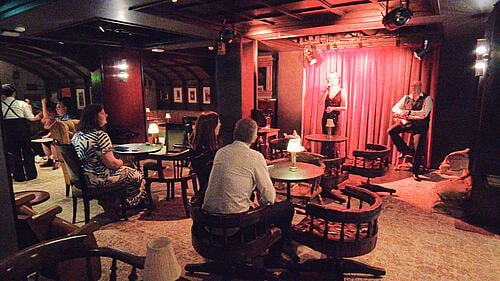 The next four hours were nothing short of memorable. While drinking inventive cocktails, we watched not just one, but two bands perform, one of which danced around the bar with their instruments, turning the entire venue into a dance party. We were having so much fun we didn't want to leave!
Although I enjoy the bars on Royal Caribbean ships, I find them a bit repetitive from ship to ship, and I loved the "secret" bar on the MSC World Europa. If anything, visiting the speakeasy made me excited for my upcoming sailing on Royal Caribbean's Icon of the Seas, as the cruise line added a variety of new bar concepts including a dueling pianos bar and outdoor/indoor jazz and blues club.
Despite hearing complaints about the complimentary food on MSC, I found it to be totally fine, although Royal Caribbean's buffet is better.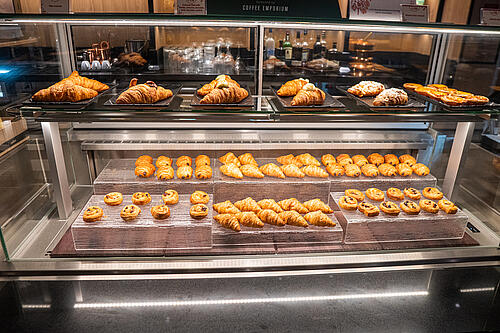 Perhaps the most common complaint about MSC Cruises is with the food, but I thought it was completely fine.
Food is extremely subjective, and one person's favorite meal could be another person's most hated dish. Because of this, I never take food reviews too seriously for cruise lines; instead, I board the ship with an open mind.
During my sailing, I enjoyed meals in the buffet, main dining room, and at Pizza & Burger, a casual grab and go venue.
Before my cruise, I heard there would be extremely limited choices in the buffet that do not change from day to day. Instead, I found there to be a wide variety for each meal with dishes from around the world, from Indian curry to Italian food. There was also a second buffet, Pizza & Burger, which served pizza on one side and American classics, like burgers and chicken nuggets, on the other.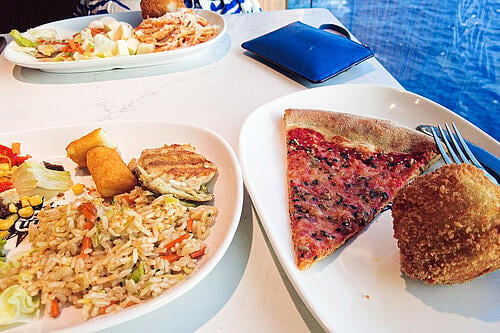 Despite the variety in the MSC buffet, I still prefer Royal Caribbean's Windjammer Cafe. I feel the Windjammer offers even more variety than MSC's buffet, and I appreciate the buffet's theme nights for dinner so that you always know what to expect. I also found the buffet on MSC much more crowded than on most Royal Caribbean ships.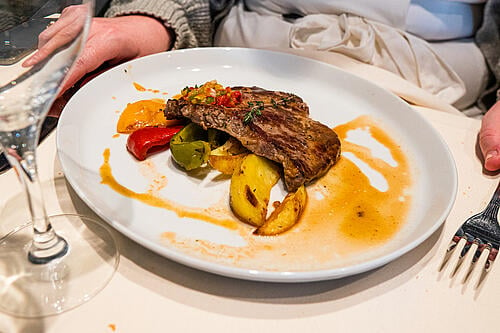 I have no complaints about MSC's main dining room, but I noted that the menu was geared more toward European tastes. While I'm not an overly picky eater, there were a few nights where I ordered from the permanent classics menu instead of the rotating daily menu as nothing seemed appealing.
The Italian food on MSC was, unsurprisingly, several steps above that on Royal Caribbean. Several of the complimentary pasta and pizza dishes I enjoyed on MSC were on par with food at Italian specialty restaurants on Royal Caribbean.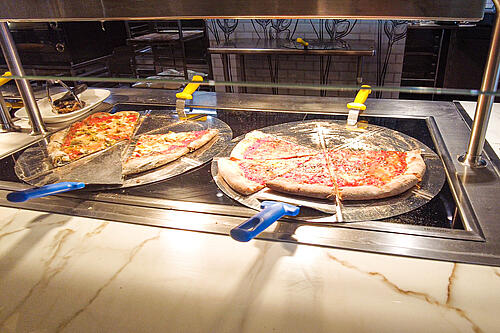 Overall, because food is so subjective, it's difficult to make a true comparison between MSC and Royal Caribbean. Royal Caribbean definitely gets points in having more food venues throughout the ship, so that's a major plus. Most MSC ships only offer complimentary food in the dining room and buffet, whereas Royal Caribbean ships may have six or seven free options.
I heard so many complaints about the service on MSC, but I found every single crew member friendly and approachable.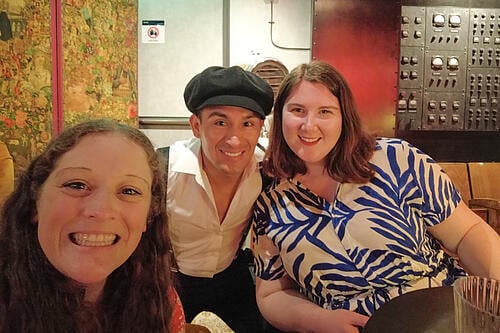 Just like food reviews, I don't put too much trust into reviews about service on a cruise ship. While I had heard several negative reviews about the service on MSC, I found the service to be similar to what I've experienced on Royal Caribbean.
MSC may be a European cruise line, but I found crew members just as friendly as on an American cruise line. My first few days onboard, I realized crew members weren't as likely to smile at you as you passed or ask you in-depth questions about your life.
This type of over-the-top friendly service is what most Americans are accustomed to, but European passengers could be taken aback by the excessive smiling and icebreaker questions.
Regardless, I found that once I smiled at a crew member and asked them a question about their day or home country, a barrier broke down and they were immediately willing to engage in conversation.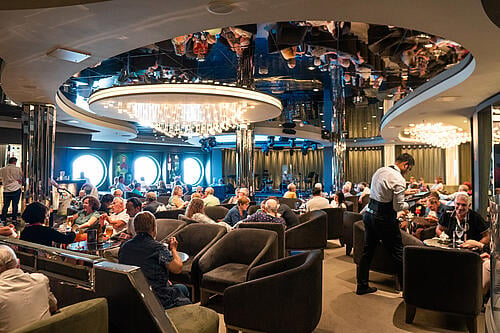 After all, most crew members on MSC are from the same friendly, hospitable countries as crew members on Royal Caribbean. By the end of the sailing, I had to make rounds around the ship to say goodbye to all of the new crew member friends I had met onboard!
Another aspect of service that surprised me was that my cabin was serviced twice per day on the MSC World Europa. Many American cruise lines, including Royal Caribbean, Norwegian, and Carnival, only service non-suite cabins once per day.
MSC still services cabins twice per day—once in the morning and once for turndown service in the evening. Although I don't always need my cabin serviced twice per day, I was surprised to see that this was still the case, especially on a cruise line known for its cheap prices.
I thought there would be a ton of smoking around the ship, but it wasn't as bad as I thought.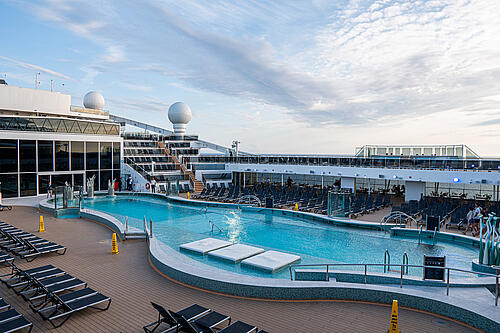 Europeans, on average, tend to smoke cigarettes more frequently than North Americans, and one major complaint many cruisers have about MSC is that there is too much smoking around the ship.
Having more smoking sections onboard was honestly something I was dreading about cruising with MSC. I do not remotely enjoy sitting near smoking areas or breathing in cigarette smoke, and I was worried everywhere would smell like smoke.
Related: Here is where you can smoke on a Royal Caribbean cruise
I was pleasantly surprised to find out there wasn't as much smoking as I initially thought there would be. While there were technically more smoking areas on MSC compared to Royal Caribbean, it did not inconvenience me at any time as there were more than enough non-smoking areas to enjoy.
Royal Caribbean enforces hand washing much better than MSC, and this makes me feel much safer onboard.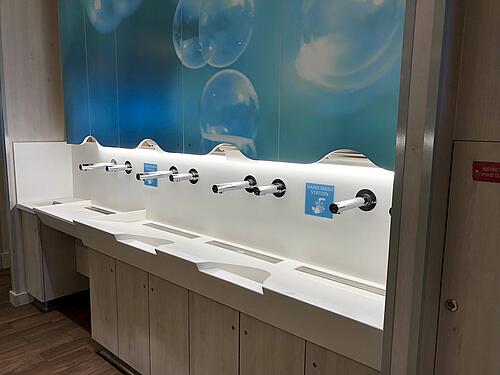 "WASHY WASHY!"
Royal Caribbean's signature hand washing cheer is something I missed on MSC, as there was a complete lack of hand washing enforcement around the ship.
Before entering the buffet on a Royal Caribbean cruise, you are instructed to either wash your hands or, if there are no sinks available, use hand sanitizer. This helps cut down on the spread of germs, thus lessening the risk for contagious viruses like norovirus to spread.
Related: 22 unpleasant cruise ship problems you aren't prepared for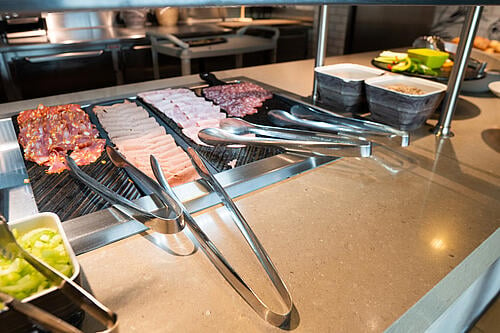 Although the MSC World Europa had hand washing stations and sanitizer available, washing your hands before eating at the buffet was not enforced. I combatted this by washing my hands before and after using the buffet tongs, but this wasn't commonly the case for my fellow passengers.
In addition to a lack of hand washing enforcement, I noticed many doors on my MSC ship had a touch handle. Royal Caribbean has largely gotten rid of touch handles on their ships, instead opting for automatic doors or an open layout with no doors.
Using touch handles seems like another easy way to spread germs, and I was surprised that the ship did not utilize as many automatic doors as Royal Caribbean.
I enjoyed my MSC cruise a lot more than I thought I would, but Royal Caribbean's loyalty benefits will definitely keep me coming back.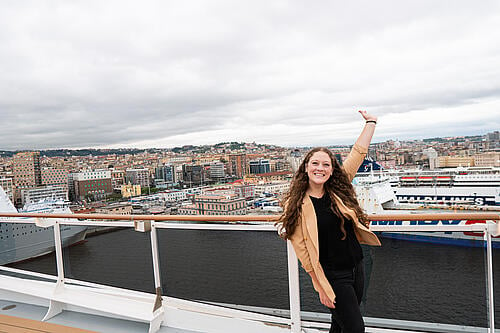 There's no doubt that MSC created an incredible product with the MSC World Europa, but that doesn't mean I'll stop cruising with Royal Caribbean.
Royal Caribbean's Crown & Anchor Society is one of the most generous loyalty programs in the cruise industry. It provides free drinks, discounts, free laundry, a private lounge, and even free cruises to its most loyal cruisers.
Related: 11 of our favorite under-the-radar Crown & Anchor perks
As I am about to reach Diamond Plus status with Royal Caribbean, there's less impetus to book cruises on other cruise lines. While on MSC, I missed having access to a Diamond Lounge and the four free drinks I receive every day on Royal Caribbean.
Although I'm not opposed to booking another cruise with MSC due to their interesting itineraries and (usually) lower prices, Royal Caribbean's loyalty program is enough to keep me loyal to the cruise line.